Configurable communication
RS485 or RS232RS232 front panel connector
2500V insulation between input and output
Side by side mounting
DIN rail mount or bulk head mounting
Input and output data transfer LED indication
N.1 serial interface RS-485 Modbus RTU Master
N.1 serial interface RS-485/232 Modbus RTU Slave
USB Port with USB 8GB Memory Key for Data Logging
Interface Ethernet 10Base-T, Modbus TCP
N.4 Digital Inputs + N.2 SPDT Relays
Functional Block programming software
Protocol Converter / Gateway from serial interface to PROFIBUS DP
The PROTOCOL CONVERTER TU-RS485-PB connects devices such as thyristor units, controller and soft starter via their serial interfaces to Profibus DP. RS232, RS485 und RS422 interfaces are on Board as a standard feature.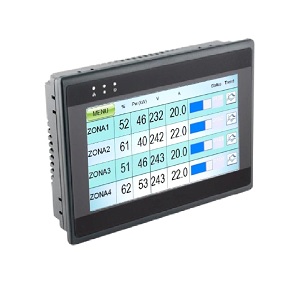 Up to 6 zone can be managed
4.3, 7.0, 10" Colour Display
Trend display
Thyristor Configuration Recipy Management
Multi Language Interface
For REVO M, REVO CL, CD3000E and MULTIDRIVE.
Operating terminals for Thyristor Units
N°2 Display
48x96 Front Panel
Re-Transmission
Thyristor Configuration Port
Multi Language Interface
For CD3000M, CD3200, CD3000E and MULTIDRIVE.
Up to 30 zone can be managed
For Revo TC 1-2-3PH and REVO TCM
4.3, 7.0, 10" Colour Display
Trend display
Recipy Management
Warm up Planner
Multi Language Interface (EN, DE, IT and FR)
Terminal Unit for Simplificated wiring of Heater Break Option
Available for REVO SSR up to 40A and Revo SSR
Push Button and DI for HB tuning