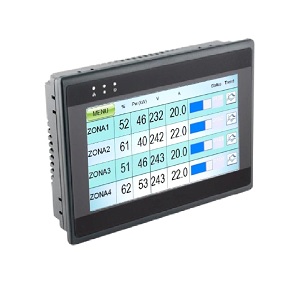 Graphic operating terminals for Thyristor Units
Up to 6 zone can be managed
4.3, 7.0, 10" Colour Display
Trend display
Thyristor Configuration Recipy Management
Multi Language Interface
For REVO M, REVO CL, CD3000E and MULTIDRIVE.
The target of this panel is to make easier, intuitive the interface with the operator during the configuration or the day by day operation.
Switch on the HMI and you can interact with it without to read the manual.
This HMI can be used also to store the recipes with configuration of each zone and down load it when necessary
On one page it's possible to see all the main parameters of the six zones
Each parameter can be recorded and is possible to see recent and historical trend for all the time that the HMI is switched on
The pricing is competitive beacause its price is devided on six units
Three access level are available
REVO KP2 can be connected with 6 zones.
The operatore Page can display 4 or 6 zone depending by the page selected. Pushing the zone name is possible to see the advanced parameter and setting page for each zone.